In the context of the present depression , organizations face significant transformation needs no matter their resilience. I support organizations and their leaders in fulfilling their goals for growth and success bringing the latest thinking. I am passionate about making business manageable and enabling clients to drive their own success. As a team we excel at facilitating small and medium organizations through rapid business transformation by providing Business HR diagnostic, strategic thinking planning, systems, structures and methods, operational excellence & execution using management tools, learning and development, coaching and mentoring.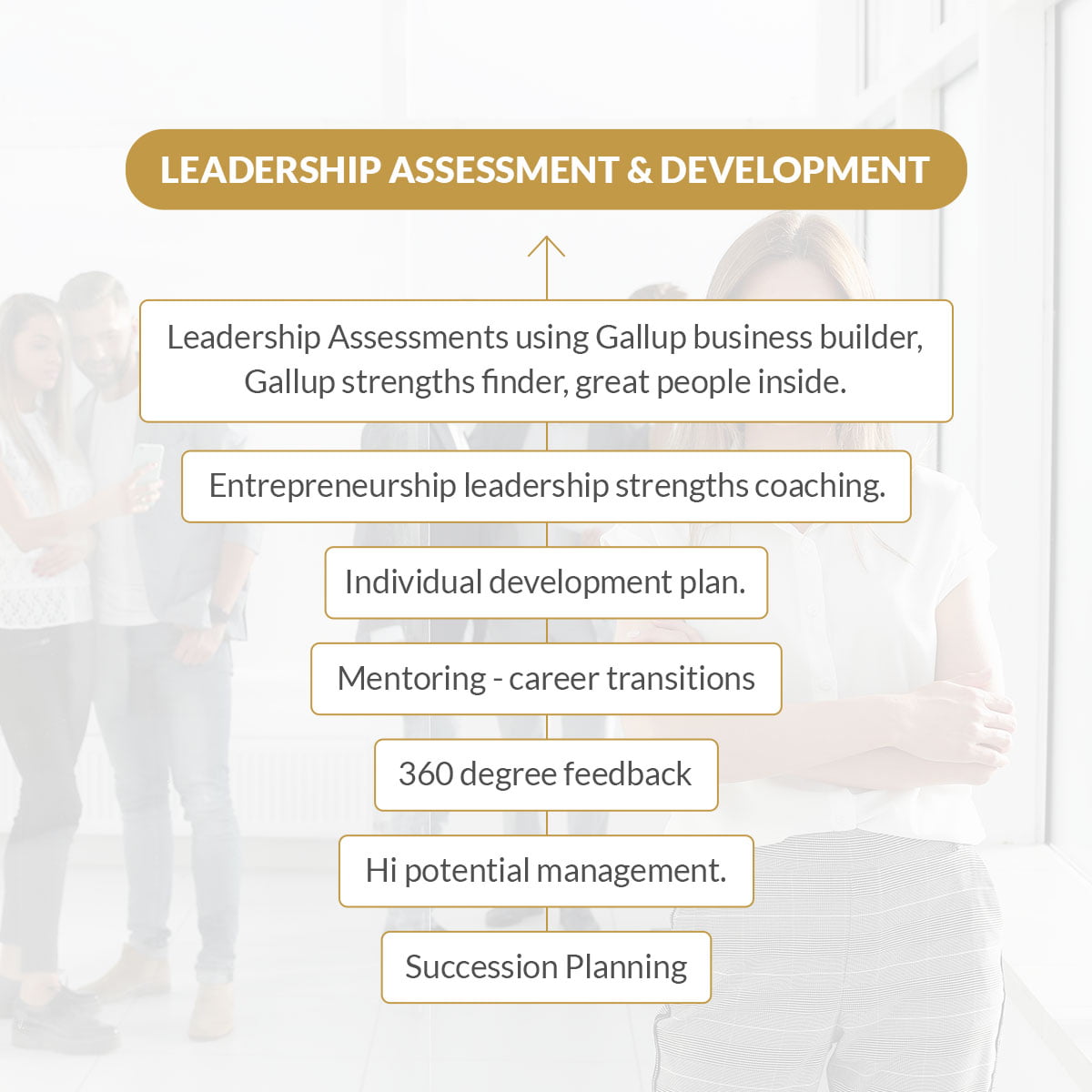 Leadership Assessment & Development
We offer a wide range of powerful global assessment tools enabling awareness of strengths and opportunities of development for leaders, hi potentials and all employees through executive and team coaching. We do this through assessment, development, diagnostics, executive coaching and mentoring using tools like Gallup's-StrengthsFinder and BP-10 for business builder profile; 360 degree feedback.
Training Design, Content & Facilitation
Healthy and successful organizations are built on a strong foundation of values, an inspiring vision that pulls and contributes to the society, and a sustainable culture where everyone is happy and growing. Since a company is the sum total of what employees achieve individually, organizations should do everything in their power to ensure that employees perform at their peak. Learning and development programs can have a huge impact on a company. Our selection of training programs allows employees to acquire new skills, sharpen existing ones, perform better, increase productivity and be better leaders.
Talent Management Solutions
Providing strategic thinking for your talent management. Talent Management requires intentional approach and creating a motivated skilled workforce who will stay with your organization in the long run. Offering a plethora of people practices that can be modified and adopted to meet your needs. The entire employee life cycle – from recruitment to exit, the overall strategy, the processes, it's nuances, the integration and the required results. We help you create it or we run it for you.
Organisational effectiveness comes with the right strategy, culture, people, structure and processes.

Is yours in place ?
Connect with me to to identify the missing pieces.